MSc Management Control and Reporting
MANAGE THE KEY DRIVERS OF BUSINESS PERFORMANCE
Brand new programme award Eduniversal 2020 Ranking
QUIZ Master of Science at KEDGE

Discover whether KEDGE Business School in France is the right fit for you! It only takes 4 minutes.

START QUIZ
Admission level
From Bachelor's degree to International Bachelor's degree - 4 years
OVERVIEW
The Management Control & Reporting MSc prepares students for a new position that has become essential.
At a time when businesses have to make decisions faster and faster, they must communicate in a more systematic and transparent way. Hence the management controller is a strategic role. Our new programme is oriented towards CSR and the teaching is shared equally between academics and professionals from the industry.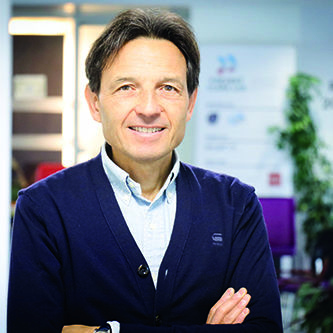 campus of Marseille
Eric CAUVIN
Management Control & Reporting MSc Programme Coordinator
MANAGE THE KEY DRIVERS OF BUSINESS PERFORMANCE
Performance is no longer measured by financial indicators alone. In today's world, we also consider global performance, triple bottom-line or 3P performance (People, Planet, Profit). Financial assessment tools are not appropriate on their own any more.
Traditional management control must be coupled to new features such as activity-based costing, activity-based management, target costing, strategic management of costs and balanced scorecard. Those practices are all part of the MSc Control & Reporting programme here at KEDGE.
CSR departments in large corporations are typically led by management control teams due to their transversal knowledge of company operations and their ability to produce strategic data. In an environment where change is a necessity, the role of the management controller is essential. They are the architects of a system, assessing and managing performance in order to produce meaningful and reliable indicators for implementing strategies.