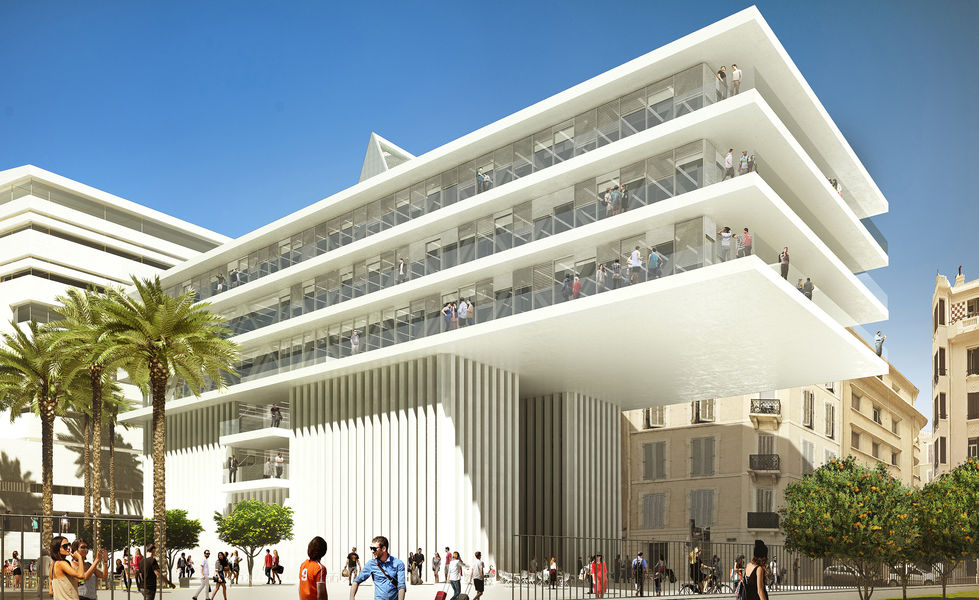 ABOUT THE CAMPUS
THE TOULON CAMPUS IS IN THE HEART OF THE CITY, IN THE "CREATIVITY AND KNOWLEDGE DISTRICT." LOCATED ACROSS FROM THE TRAIN STATION AND NESTLED WITHIN PARC ALEXANDRE 1ER, THE SITE IS HOME TO TOULON'S ART AND DESIGN SCHOOL, THE PUBLIC MEDIA LIBRARY, LOCAL GOVERNMENT (CONSEIL DÉPARTEMENTAL DU VAR), A BUSINESS INCUBATOR, A NUMBER OF FRENCH-TECH START-UPS AND 160 HOMES.
Students enjoy a dynamic cultural and economic environment in an ideal location that includes – just steps from campus – the Zénith de Toulon arena, the opera house, Théâtre Liberté, Mayol stadium and the Rue des Arts, the pinnacle of the city's revival of arts and culture, with galleries, shops, concept stores, designers, co-working spaces, cafés and restaurants. Toulon, one of The Guardian's top six European seaside cities, boasts an excellent geographic location, 4 hours from Paris and 2.5 hours from the southern Alps. It also has Europe's most beautiful harbor, interspersed with "Blue Flag" beaches and unspoiled coves.
1. STUDENT ORGANIZATIONS
An integral part of the school's pedagogical approach and Learning by Doing, "Pro-Acts" enable students to manage projects freely and professionally in various areas, including events, sports, culture or humanitarian projects.
The organizations enrich student life at KEDGE by providing countless opportunities to learn, discover and enjoy unforgettable experiences in many different areas.
KEDGE is known for its dynamic student life, and the various student campaigns contribute to the healthy rivalry that exists between the various organizations.
2. TOULON CAMPUS STUDENT ORGANIZATIONS
– La Conf' (Confédération des Associations)
– Le BDE – Student Office (Bureau des Élèves)
– Le BDS – Sports Office (Bureau des Sports)
3. BUSINESS NURSERY
The Business Nursery is a veritable incubator for student entrepreneurs. Anyone with a project may take advantage of the expertise of KEDGE and its partner-network professionals who are part of the local innovation ecosystem.